<![if !vml]>

<![endif]> Events at the Seattle Metaphysical Library
April 22, 2010
http://www.SeattleMetaphysicalLibrary.org
Several people wrote in, asking me where the 40,000 magazines were that were on sale. Oops.
I misread Amazon's ad.  I usually pride myself on being a suspicious ad reader, but I totally got hooked into their ad that mentioned two-for-the price-of one on selected magazines in their stock of 40,000 magazines.  That word "selected" went right through me – I was too excited to read carefully!.  I totally apologize!
I still encourage you to go to Amazon through our website, so that we can get a percentage of your purchase (no extra cost to you).
Visit the Events page on our website  to register for an event
"The One Command" Guided Theta Meditation
<![if !vml]>

<![endif]><![if !vml]>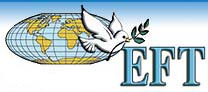 <![endif]>Saturday, April 24
10:00 am to 11:30 am
$10
The One Command is a powerful meditation tool which involves going into the Theta (reprogramming) brain state and connecting to the Zero Point Field to accelerate the manifestation/intention process. Within this technique we admit that our conscious mind is very limited (it can only attend to a maximum of 9 bits of information at once.) We surrender to the greater part of us, our non-conscious mind, which is always connected to the Field of all potential. From here, ideas, solutions, shifts and answers can flow in to our awareness and our lives, paving the way for positive change.

The basic One Command format is:
"I don't know how I (state your intention), I only know I do (am) now, and I am fulfilled." Stating "I don't know how" shuts off the conscious mind and allows us to tune in more fully to the brilliance of our unconscious, which is always connected to divine wisdom, intuition and inspiration.

We will go through the Command process several times during the meeting, focusing on a different topic each time. We will use EFT tapping to clear negativity before each meditation.

Hope you can join us to experience this technique in a fun and supportive group setting!

Read more about The One Command at: www.commandingwealth.com We'll start with some Energy Medicine balancing exercises, then tap together using Borrowing Benefits for individual concerns while the whole group taps along. Get rapid relief from negative emotions in an energized group setting. "Borrowing Benefits" means you can tune in to your own issue privately and get relief, i.e. "borrow benefits" from someone else's tapping, even if it is a totally unrelated issue. Interestingly, each group always seems to draw together people with similar concerns. We can tap on just about anything including more expansive concepts such as strengthening our Intuition and living in states of Love, Peace and Gratitude as much as possible... Join us for a powerful experience! Beginners welcome -- you'll be taught the basic tapping points and be able to join right in. A more in-depth Introductory class will be offered in the coming weeks for those who want to pursue further study. Join the Library's mailing list to receive updates.
<![if !vml]>

<![endif]>Friday, April 23, 2010
6:30-9
Nonviolent Communication Training Center of North Seattle
115 N 85th Street.  Map
This sold out last time, so we moved to a bigger venue this time. If you were not able to get a seat, this is your chance!
 The core of any problem, physical or emotional can be quickly discovered by maintaining a theta brain wave.  Limiting beliefs that keep conditions in place are released, trauma is removed and long-standing dilemmas are resolved.  Join us for this introductory class where Colby will do verifiable healing work with everyone in the room simultaneously, as well as demonstrate the type of intuitive work you will be able to do at the conclusion of a four day course.
You will learn to:
<![if !supportLists]>§ <![endif]>Resolve emotional blocks, historical patterns, trauma and longstanding dilemmas.
<![if !supportLists]>§ <![endif]>Release long held fear anger, resentment and physical ailments.
<![if !supportLists]>§ <![endif]>Change how you feel in an instant.
<![if !supportLists]>§ <![endif]>Learn how to access your highest self and angels.
<![if !supportLists]>§ <![endif]>Change and restructure the physical genetic code and DNA.
<![if !supportLists]>§ <![endif]>Learn a method to powerfully manifest your deepest desires.
The class covers:
<![if !supportLists]>§ <![endif]>How to muscle test yourself to reveal subconscious beliefs that cause disease, discomfort and unhealthy patterns of behavior
<![if !supportLists]>§ <![endif]>How to determine what negative unconscious beliefs are interfering with your abundance and how to change them
<![if !supportLists]>§ <![endif]>How to access the theta brain wave to communicate directly with Source
<![if !supportLists]>§ <![endif]>How to do powerful energy clearings on yourself, others and your home and work place
<![if !supportLists]>§ <![endif]>How to work on yourself and others to resolve long-standing issues
Colby Wilk was originally a counselor/coach.  He recognized that there was a power beyond traditional therapeutic methods that could shift what seemed unchangeable — the very core of a person. Through spiritual healing, he teaches participants to create a powerful, magical relationship to themselves and to life.
Colby trains others to be their own teacher, to access spiritual states and to overcome blocks.  In addition to classes and in person and remote sessions, he offers FREE healings through his website: www.HealThroughSpirit.com
UFO Dinner and Discussion Group
<![if !vml]>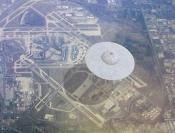 <![endif]>Saturday, April 24
6:30 pm
This will be at a private home in the Wedgewood neighborhood of Seattle.  The location will be given to those who RSVP ahead of time.
We'll be screening a video, to stimulate discussion afterwards.
Please bring finger food to share.
Love to talk about UFOs? Want to meet others who do, as well?
RSVPs are closed for this month, but we will meet again next month.
Dreamworking

Discussion Group
<![if !vml]>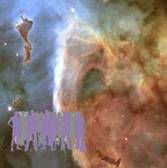 <![endif]>Tuesday, April  27
6:30 pm
For some of us, our dreams reflect the turbulence, excitement, dread, and challenges of the world around us. We are in the Times of Prophecy, facing both severe choices and ever-more-limiting options.
The old ways of dealing with our life choices is not sufficient. The evidence from laboratories and research facilities around the world, as well as our own direct experience and the experiences of people we know, imply that our vast, untapped potential is both available and necessary for our well-being into the future.
Our dreams can provide that connection between that vast, untapped potential and our conscious minds, which can be used to direct our Creative Intelligence.
Dream analysis, journaling, incubation, and understanding are often easier to do with a group of respectful, encouraging listeners than by ourselves, where we get so easily distracted.
The intention of this group is to provide a safe space where we can share our dreams, and try to work through what they are telling us. This is especially useful when calling upon our spirit guides, guardian angels, and other spiritual helpers, to assist us. Sometimes it takes time, skill and experience to understand what we are being told. Other times, it's like we got walloped upside along the head. An outside perspective can introduce viewpoint and throw the spotlight of understanding on previous confusions. If the group becomes larger than 8 people, we will split into two groups. Our challenge will be to encourage openness, safety and disclosure in the speaker. While in listening mode, we will be practicing the skill of balancing the opposite demands of being supportive, but not enabling people to get some emotions need satisfied. not allowing the speaker to slip into sloppy self-indulgence.
This narrow tight-rope we walk is part of our training to start taking responsibility for our lives and our actions, and also to learn to be truly supportive of others, without stepping over the boundary into self-draining activities.
Smarter shopping on Amazon:
As I promised last week, this is the second of my tips on how to buy smarter on Amazon.  The last newsletter, I showed how searching for a specific ISBN can give you a dramatically lower price than searching by author and title.  The example I used was Marion March's The Only Way to Learn Astrology,  which was listed anywhere from $9.99 to $38 for a used edition.  But by using the ISBN, I found people who would sell it for a penny!
Tiny little hyperlinks to hidden lists
Another, more commonly-available trick is using the "other editions" link. 
As an example, we can use Michael Parenti's excellent book, Democracy for the Few.  If you do a book search for "parenti democracy ", you will get a list that has six listings for his book, three of which are unavailable, and the cheapest of which is $52.84.
BUT if you click the "Books: See all 11 items" hyperlink, circled below, you go to another page.
<![if !vml]>

<![endif]>
This page has the same six listings, but with a different link at the bottom of each item.
<![if !vml]>

<![endif]>
Click on any of  the three listings. In this example, we'll use Hardcover because it's first.  You will get another listing.
This one says that the book is unavailable…
But wait!  There's another little, tiny hyperlink to more formats!
<![if !vml]>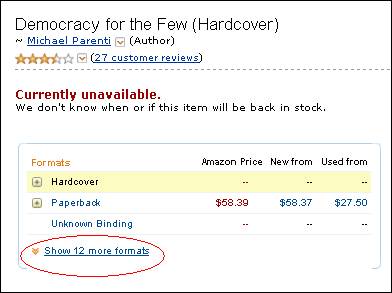 <![endif]>
And look at that!  There are three different editions that are listed with a low price of one penny.
I opened up all three of them, and there are a total of 97 books that are being sold for a penny.
Plus another 20+ if you want to pay four cents.
Isn't that amazing?!?
<![if !vml]>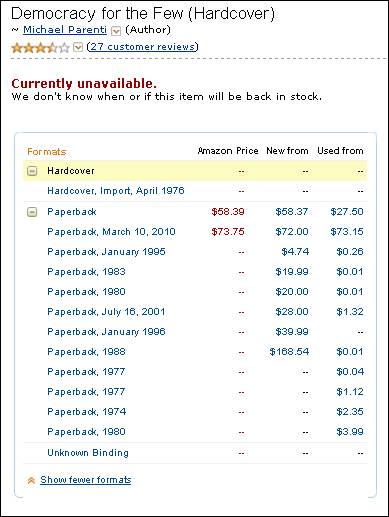 <![endif]>
It takes some digging, but when you see these little hyperlinks, BE SURE TO FOLLOW THEM!
© 2010 Seattle Metaphysical Library,
This email is sent to bramsey@seattletimes.com
To remove yourself from this mailing, reply to this email and tell me you want to unsubscribe.
2220 NW Market Street, L-05,
Seattle WA 98107
(206) 329-1794. 
Our open hours are listed on  our website
www.SeattleMetaphysicalLibrary.org
This is a member-supported non-profit library.
Subscription to the newsletter are free.