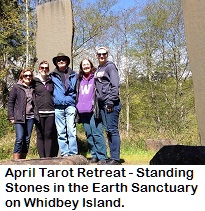 Tarot Class
The Tarot group has been an incredibly spiritual bonding experience, not to mention just plain fun. Few if any of our classes have required any prior knowledge of the Tarot, but all have required a willingness to explore our own intuition. This series will again approach the Tarot from that viewpoint, learning about it by speaking its own language - that of symbolism..

The group has started a project to build a Seattle Metaphysical Library Tarot deck. If you would like to get involved with this, email Kathy at Kathy@seattlemetaphysicallibrary.org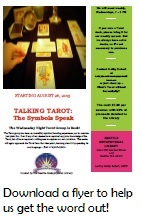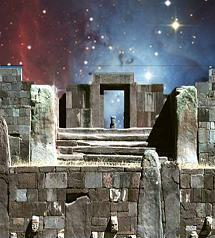 Ancient Aliens and Human Origins Study Group
First Monday of each month.

The next group meets January 4, 2016 at 7 pm (no December meeting)
Free for members, $5 per session for the general pubic
The current book is "The Destruction of Atlantis" by Ignatius Donnelly.
All our library copies are checked out, but you can buy it used on Amazon very reasonably. This is an older book, and does not have a lot of the newer material, but we chose it because it is a classic that almost all researcher reference. This is written back in the days before we had institutionalized academic research, and people used logic and evidence to argue their cases, rather than referring to "authorities" and previous academic research. It's quite interesting to see how natural science has changed it the past hundred years. He makes a case that the soil deposits found in North America and northern Europe are NOT glacial deposits, but from a catastrophic comet.

He then looks at verious indigenous lengends from aroudn the world to show that people lived through that collapse, but it had a serious effect on the human psyche that continutes to this day.
You do not have read the book to attend the meeting, as those of us who have read the material will tell the group what we remember, as a way to learn and retain the new material we are reading.